| Close your eyes and imagine the exhilaration of sliding our drift cars through the apex, confidently controlling the steering and power as you slide on. | |
| --- | --- |
*****This program is currently closed due to venue safety concerns at Willowbank Raceway*****
Other drift programs continue to operate at this venue and are compromosing the safety of participants
STAGE 1: SKID & SLIDE PROGRAM
This 5 hour program gives people fascinated with the motorsport of drifting the chance to learn some of the essential car control techniques in real race-prepared drift vehicles.
COURSE DETAILS:
The session begins with a 30 minute theory session which covers the following topics:

FRICTION CIRCLE THEORY
VEHICLE DYNAMICS (PHYSICS IN MOTION)
THE TECHNIQUES OF DRIFTING
DRIFT HISTORY AND CULTURE
VEHICLE PREPARATION
CAR CONTROL TECHNIQUES
SAFETY TIPS
After the vehicle induction and safety briefing, you will spend 4 hours in practical drift sessions with our instructors riding in-car to provide personalised one-on-one coaching and maximum safety.

The training session allows each driver to practice and refine the following drift skills:

CORNERING LINES
POWER OVER
SWAY DRIFT
E-BRAKE (HANDBRAKE) DRIFT
FEINT DRIFTING
LINKING SLIDES
| | For 2014 we are running two x S14 S1 200SX models. Both cars are manual. They have been put together to maximise reliability, yet aid in allowing people to "feel the vehicles characteristics. 4.3 diffs (replacing standard 3.7), one car has a shimmed VLSD, other has Nismo 1.5 way, Exedy Sports Organic clutches, Superpro bushes throughout (Provided by Fulcrum), Tein Height and damper adjustable Coilovers (Provided by our sponsor Fulcrum) , Hydraulic Handbrake Fitted, Performance Exhausts, Performance Brakes (ceramic brakes, slotted roters), Aftermarket fuel pumps and Rocker stoppers, Dual controls in both cars for added safety |
| --- | --- |
The cars have been setup for reliable sliding. You will notice there are no 400 RWHP Dyno Sheets attached........why? Because you simply do not need that kind of power to learn and hi-performance engines would keep the vehicles in pit lane more than on the track.
PARTICIPANTS:
Course is limited to 10 drivers per 5 hour class
PRICE:
$440 per driver (inc. GST)
(or $3850 for an exclusive group session)
INCLUSIONS
All participants receive:
Certificate of course completion
Drift School merchandise including drift lanyard, embroidered cap and drift school bumper sticker set
LOCATIONS:
Currently closed due to venue safety concerns
TERMS AND CONDITIONS:
Full payment is required to secure your position.

No refund is available if cancelled within 5 days of course date. Also no refund for non-attendance.

Failure to attend consumes your position
PREREQUISITES:
All participants must wear closed footwear (no thongs or sandals), must be in good health, with no known heart problems. You will be required to sign a Release & Indemnity acknowledging this activity has risks associated with it and you accept these risks.
INTERNATIONAL VISITORS:
must understand English unless translator is supplied
be a minimum of 18 years of age for Drift School or 15 years for Slide of a Lifetime (Passenger Ride)
hold an unrestricted national licence from their home country or international driver's licence.
ideally you should complete an advanced driving course prior to attending Drift School
AUSTRALIAN RESIDENTS:
be a minimum of 18 years of age for Drift School or 15 years for Slide of a Lifetime (Passenger Ride)
if under 21 years you must have completed a Defensive or Advanced Driving course to be eligible to attend
DRIFT SLIDE OF A LIFETIME:
(Hot Lap Passenger Ride)
INTRODUCTORY PRICE: $145 per passenger ride/slide (inc. GST)
You will be strapped into our car and taken for awesome thrill ride on the circuit with a skilled drifter. You will experience the g-forces, dynamics and adrenalin rush of drifting. A unique experience!
PRICE:
$145 per passenger ride/slide (inc. GST)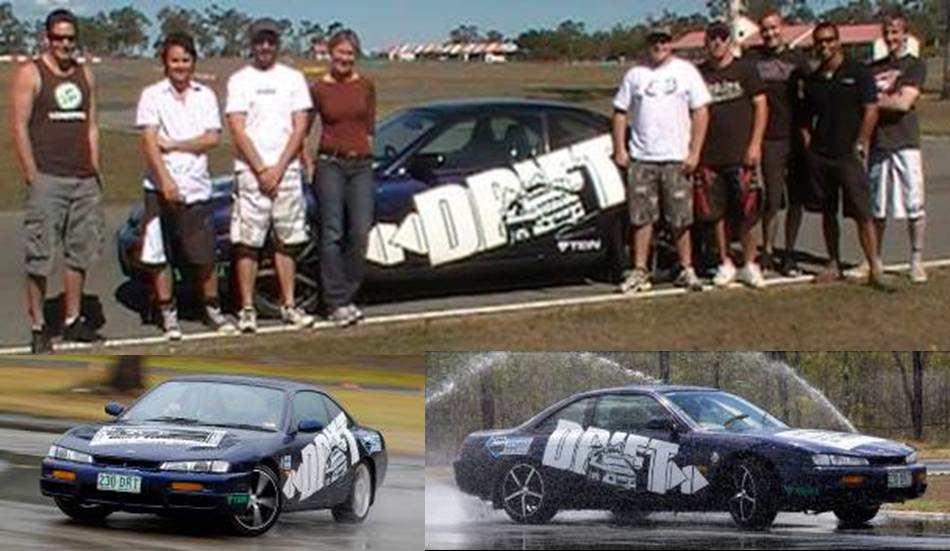 Gift Vouchers for Xmas/Birthday
The hottest Gift this year will be a gift voucher for the Physics in Motion International Drift School. Now you can learn to slide a car like a professional, at our Drift Training School.
For full terms and conditions check out the Gift Voucher webpage
Drift Merchandise
We offer a range of drift themed merchandise including caps, t-shirts, lanyards, race-gloves, bumbags and bumper stickers.
Click here for more information
Why the name "Physics in Motion"
The key to DRIFTING is car control. Understanding the dynamics of your vehicle will help you master the art of drifting. Physics is the study of moving objects, therefore skilled drifters must understand "Physics in Motion".
About our logo

Our logo pays homage to the iconic drift car the AE86 Toyota Sprinter, also known as Trueno or Hachiroku. The new Toyota 86 is named after this cult-car.
Establishment of Drifting Centres
We are committed to nurture the motorsport of drifting across the Asia-Pacific region.
Investors and sponsors are currently being sought to assist in the development of a network of drifting centres across South-east Asia.
Download the Drift Land Complex investors/sponsors advertisement
Our S14 drift pig competed in several drift events at Archerfield across 2014.

Our new competition drift car is under development for the 2015 season and use in our drift school programs
Physics in Motion Science Program
High School students can now learn the Physics of car control via this innovative educational program. Students learn how the Laws of Motion and g-forces influence vehicle control and road safety. Each year up to 5000 students will complete this program. The aim is to capture the imagination of novice drivers and inspire youth to drive safely by understanding how Physics affects their vehicle. Click here for more info
Downloads:
Media/Reviews:
Feedback:
"The lads started with the basics and guided me through the process picking up at each participants skill level and moving on from there. Cars are great to drive easy to get used to. It's the best place to start with drifting, and will get you hooked on sideways action" Red Balloon participant 2012
"Throwing a car around a 180 deg corner at full throttle was such a buzz. This experience is not only a lot of fun but also teaches how to control a skid and keep the vehicle under control. I had so much fun, the instructors were great." Red Balloon participant 2012
"Absolutely loved it, will definately be recommending it and will definetely be saving to do it again!" Red Balloon participant 2012
"I had an awesome day doing this course. i am definitely goin to do this course again, it was a very positive atmosphere both instructors made me feel welcomed as soon as i arrived and comfortable and encouraged me whilst i was learning to drift. i have done a couple of driving courses and SDT are by far the best!! cant wait to return and get my slide on!!!! Thanks again"Dan Edbrooke (attended Drift school at Willowbank, 2010)
"Regarding my drift ride on Sunday at Willowbank.... I sooo enjoyed myself (except I'm sure my son got longer time than me...) and I can't wait to see the photos. The day really inspired my passion, and when circumstances permit, I'll be heading up to Cairns for your Drift School...I haven't been able to calm my excitement and anticipation since the day...it's pretty much all I can think about..". Terri Eastweek (Drift slide at Willowbank on August 4, 2009)
"Excellent day, great experience and well worth doing." Chris Grcic (attended Mako Trac on Feb 20 & 21, 2009)
"Was very fun, encourage everyone to try it some time" Kerin Payne (attended Mako Trac on Feb 21, 2009)
"I just wanted to say a quick Thank you for the fantastic experience of the Drift School on Saturday Arvo. Had the best time and could not stop talking about it to friends and family. Was on such a high when I left and couldn't sleep. When finances allow (well, actually when my wife lets me) will definitely be looking at getting a car to take to the skid pan or to go drifting in. Thanks again. The night was great value.". Greg Nicotra (attended Mt. Cotton Skid Pan program in 2006)