Give someone the gift that might just save a life!
Gift vouchers are available for most Safe Drive Training courses, however some courses have minimum age or training prerequisites. When you purchase a gift voucher, we will send the following items:
the professional looking Gift Voucher
a brochure on the course the voucher is valid for
a list of upcoming dates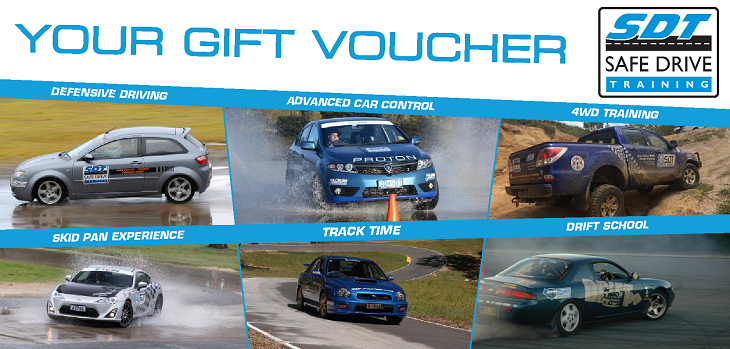 This can be sent to the person ordering and paying the voucher or directly to the recipient on your behalf. Please advise if you wish us to send the voucher in a plain (un-marked) envelope, so the recipient does not get any clues to this gift.
Unlike other gift vouchers that are sold, ours are valid for an entire 12 months from the date of issue and we will attempt to ensure the recipient actually uses their voucher (within the 12 month period). Where possible we will continue to contact the recipient throughout the life of the voucher to keep them informed about upcoming course dates.
Gift Vouchers with Prerequisites
For the following programs, enrolments will only be accepted for drivers under 21 years old, if they have completed a Defensive Driving Course. No prerequisite if participant 21 years+
S1 Advanced Accident Avoidance (1/2 day)
S2 Skid Pan Experience (1/2 day)
S1/S2 Advanced Car Control (all day)
Terms and Conditions:
Safe Drive Training Gift Vouchers are sold under the following terms and conditions:
Voucher is for nominated participant ONLY and is not transferable
Voucher must be used within 12 months from the date issued (as shown on the voucher)
Once the booking date is confirmed, a rebooking can only be made if cancelled more than 5 days before a booked course.
This voucher is forfeited if a booked course is not attended.
Vouchers can be returned for refund within 3 months of issue, however an administration and cancellation fee of $33 will apply.
Gift Vouchers are not refundable after 3 months.
Feedback:
"Late last year I purchased two gift certificates for two of my nephews. They thoroughly enjoyed the experience and I believe they are saving up to do the advanced course at some time in the future. I am now wanting to purchase another gift voucher for a family member" Robyn Robotham (2011)
Downloads:
Click here to download the Gift Voucher Order Form
Otherwise please feel free to email us with your gift voucher order at info@sdt.com.au