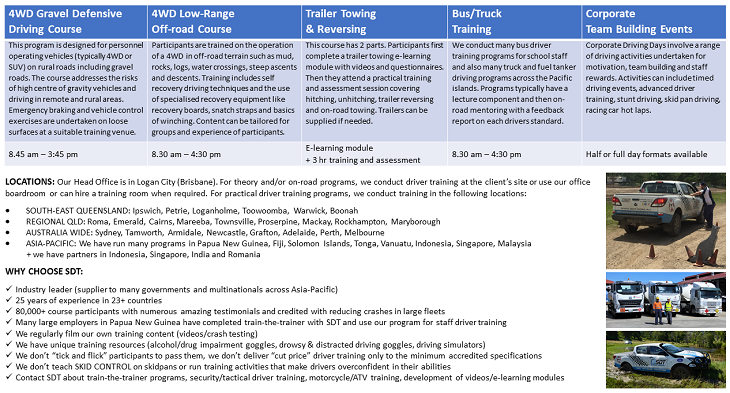 As every company fleet is different in terms of crash risks, training needs, time allocated for training and budget for training, Safe Drive Training offers the following services:
Light Vehicle (Defensive & Responsible Driving Course 1 or 2 day)
Bus Training or on-road assessments
Truck Training or on-road assessments (includes URGENT DUTY training for fire trucks)
Bobcat/Forklift Training or assessments
Motorcycle/ATV Safe Riding Courses
4WD High Range Gravel Defensive driving
4WD Low Range Off-road Training
Trailer Towing & Reversing
Safe Driving Lectures/workshops
Alcohol Education Programs
Train-the-trainer for companies to conduct internal driver training
Secure (anti-threat) Driver Training (including Police and Security training)
Traffic Engineering (improvements to mine and industrial site roads)
Write safe driving policies and proceedures (including driving induction handbooks)
We sell driver education resources: simulators, alcohol education products, safe driving books, DVD's, alcohol detectors)
Training is available across the Asia-Pacific region in local languages. Beware of UK or USA based driver training systems which do not work in developing countries with low driver licencing standards.


Tailored Safety Solutions:
IMPROVE YOUR COMMMUNITY SAFETY

South Pacific Oil (Solomon Islands) engaged SDT to conduct Low Risk Driving Workshops and driver assessments for their tanker and forklift drivers. This training was initiated to improve fleet safety and enable SPO to win more business supplying new mining projects that require all drivers entering their sites to have undergone driver training . SPO was very happy with the training and the media coverage generated and subsequently sent their staff for train-the-trainer programs with SDT. SDT has partnered with SPO to improve safety in Solomons.
INCREASE DRIVER AWARENESS

SDT has been overwhelmed with interest in our 4WD High Range Defensive Driving Course which has been developed to increase awareness about dangers of driving 4WD vehicles on unsealed gravel roads. Training has been delivered in the Western Province of Papua New Guinea for Talisman Energy, Parker Drilling, Ok Tedi, South Asia Exploration plus across Queensland for clients like ERM Power, Tarong Energy, Ergon Energy, John Holland Power, Origin Energy, Energex, Rio Tinto and QR National. Nationally accredited training is available.
UNIQUE TRAINING SOLUTIONS

Coles Online engaged SDT to develop a Safe Driving DVD to assist with the driver training and induction of new drivers joining Coles Online. SDT scripted and filmed a 12 segment DVD about the common cause of crashes for these delivery trucks.
APPRENTICE & YOUTH SAFETY

Many large mining and energy companies have engaged SDT to conduct defensive driving courses for their apprentices as part of their on-the-job training. Clients include Rio Tinto, Sedgman, Thiess, Peabody Energy, Dalrymple Bay Coal, Gladstone Ports Authority and NRG (Gladstone) Power Station. Many high schools in the Central QLD region are also offering students the chance to attend SDT courses, to make students more employable to mining and energy companies after graduation.

Pictured are Rio Tinto Yarwun apprentices in-front of SDT highway billboard near the Gladstone Driver Training Centre (April 2011)
TRAIN-THE-TRAINER AVAILABLE

SDT has delivered train-the-trainer programs to large companies in Indonesia, Solomon Islands, Federated States of Micronesia, Papua New Guinea and Malaysia. These programs enable large companies with many drivers (500+) and high staff turn-over rates to conduct (under-licence) a training program developed for internal use.
Why implement a Safe Drive Program?
Everyday your drivers advertise your company by the way they drive. Just by being on the road, they put themselves, the company vehicle and other road users at risk. Your company vehicle fleet, drivers and riders are expensive and valuable assets worthy of effective risk management.
These assets are at risk! The Australian Transport Safety Bureau (ATSB) and the National Safety Council (NSC) recognise that road crashes are the most common cause of work related deaths; injuries and absence from work in Australia . The average company car will crash once every 5 years and the average cost of each road crash is estimated at $18,500 (of which panel repair costs are only a small part of the total expenditure). The road deaths in most Asian countries (which are often under-reported) are amongst the highest per capita in the world. For example, annually in Indonesia over 40,000 people are killed in traffic accidents. A further 500,000 people are injured in traffic accidents in Indonesia each year. In many Asian countries over 800 people are killed each week from motor vehicle crashes.
Suddenly the safety of your fleet is worth considering. The true value of safe driving will only become apparent when the real costs of bad driving are fully understood. A driver's licence alone does not make your drivers safe, afterall the road network and vehicle technology is constantly changing but there is no updating or retesting of drivers. You cannot expect people to drive or ride safely unless they have been shown how and given reasons why.
Train them don't blame them. In conjunction with Safe Drive Training, your organization can introduce a SAFE DRIVING PROGRAM that provides cost effective risk management and meets your OHS obligations.
DOWNLOADS:
Company Fleet: Defensive & Responsible Driving Course
Company Fleet: 4WD Gravel Road & Low-Range Off-road
PROMOTIONAL VIDEOS:
| COMPANY PROFILE VIDEO | |
| --- | --- |
| ADVANCED CAR CONTROL | |
| 4WD GRAVEL DEFENSIVE | |
| TRAILER TOWING | |
| 4WD OFF-ROAD TRAINING | |
| SECURE DRIVING | |
| TACTICAL DRIVING | |
| BE A BETTER DRIVER | |
Contact us:
To find out more about SDT Staff Driver Training, send your enquiry to info@sdt.com.au