THE PROMOTIONAL VIDEO BELOW OUTLINES OUR 2021 PROGRAMS AND RESOURCES FOR SCHOOLS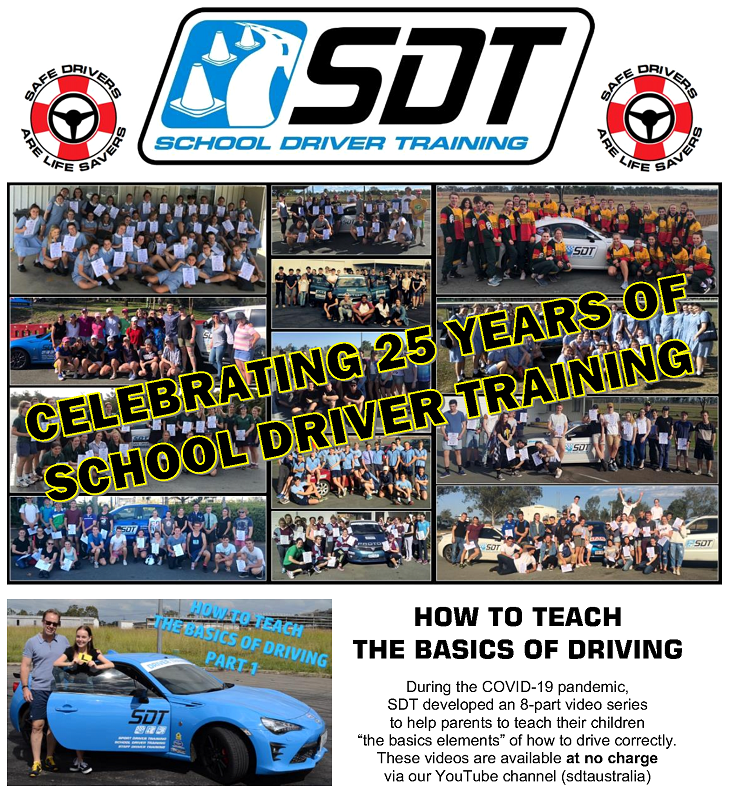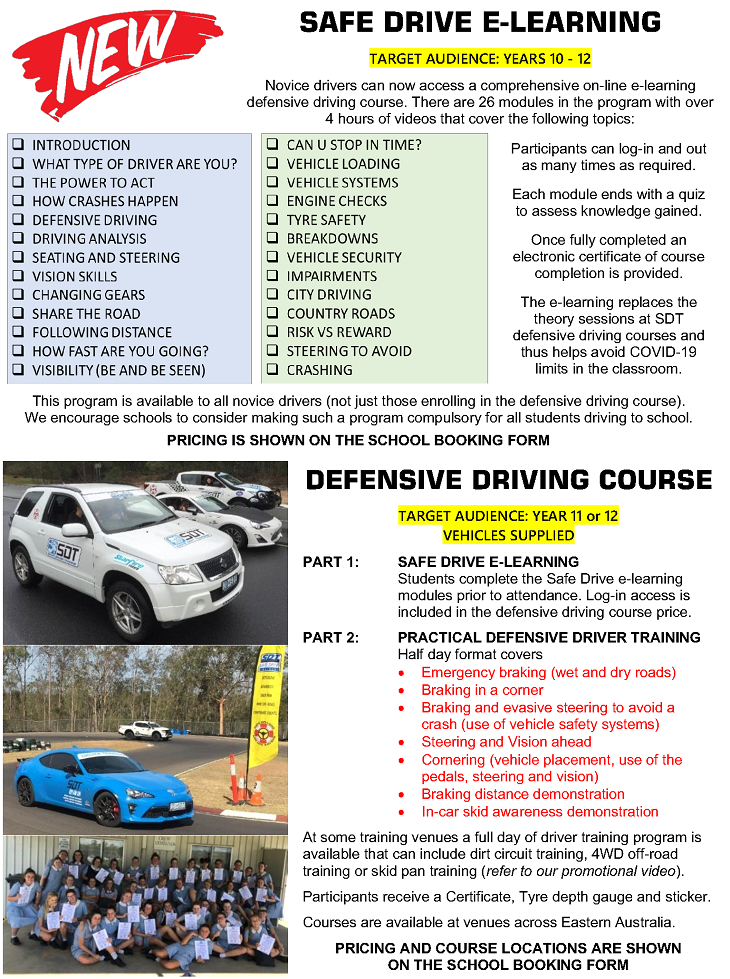 CLICK TO VIEW SAFE DRIVE E-LEARNING PROMOTIONAL VIDEO
CLICK TO VIEW DEFENSIVE DRIVING PROMOTIONAL VIDEO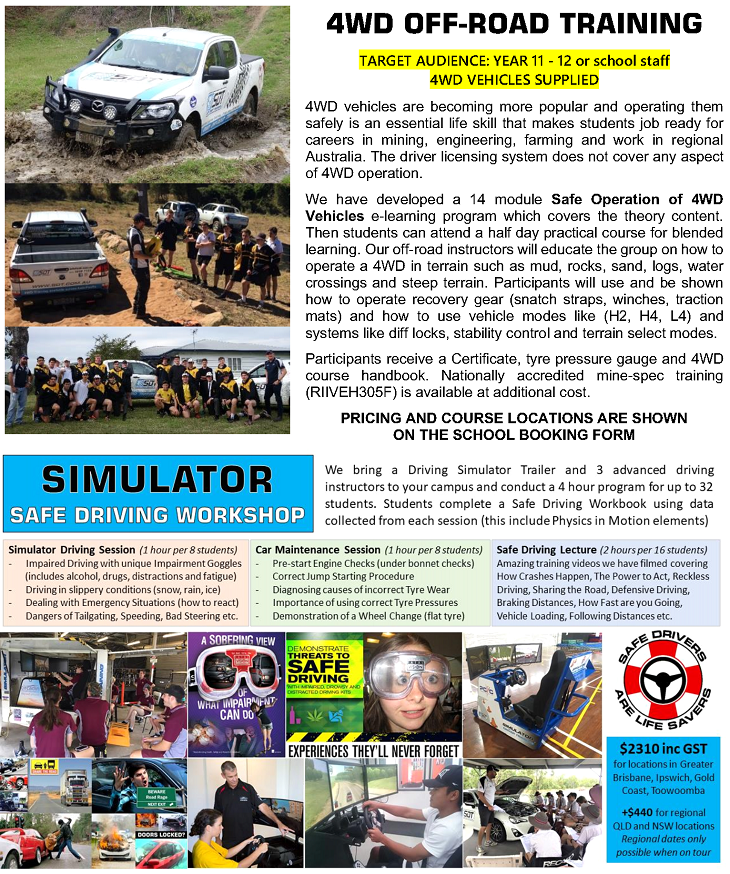 CLICK TO VIEW 4WD TRAINING PROMOTIONAL VIDEO
PHYSICS IN MOTION SCIENCE PROGRAMS PROMOTIONAL VIDEO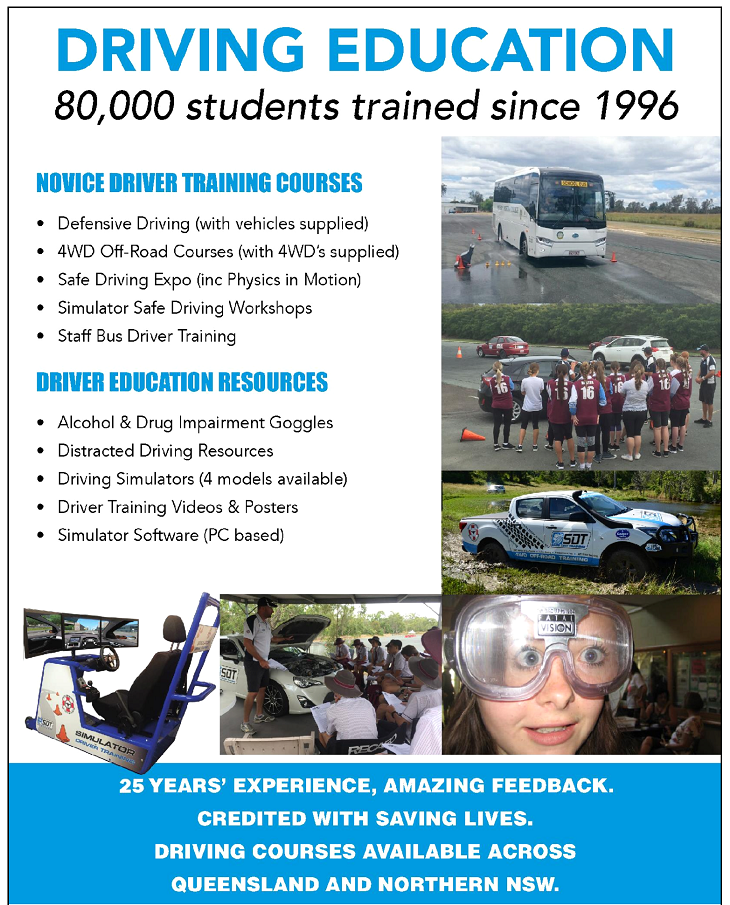 FREQUENTLY ASKED QUESTIONS
What is the REAL FATAL 4?

Safe Drive Training developed the Real Fatal 4 Factors in Novice Driver Crashes in 1999. It is our belief these 4 factors are the underlying reason why so many novice drivers are killed on Australian roads.

OVERCONFIDENCE
RISK-TAKING
INEXPERIENCE
PEER INFLUENCE

Whilst certain vehicle control skills might assist in the seconds before an impact, the

Real Fatal 4 Factors

are behaviours which create the dangerous situation in the first place. Empowering novice drivers to understand these factors can assist with better decisions minutes (not seconds) before the potential crash.
Where are the courses conducted?
For 2021 programs are available in the following Australian locations:
CAIRNS (QLD):

Cairns Speedway or Springmount Dragstrip

TOWNSVILLE (QLD):

1300SMILES (Cowboys) Stadium

PROSERPINE (QLD):

Whitsunday Driver Training Centre

MACKAY (QLD):

Palmyra Dragstrip

ROCKHAMPTON:

CQLX Gracemere Saleyards

GLADSTONE:

No suitable venue exists

EMERALD:

Go-kart Track

ROMA (QLD):

Ironbark Raceway

BRISBANE (QLD)- 2 venues


Willowbank Raceway Training Centre
RACQ Mobility Centre of Excellence (Mt. Cotton)

TOOWOOMBA (QLD):

Greer Park Raceway (Helidon)

WARWICK (QLD):

Warwick Dragstrip

LISMORE (NSW):

Lismore Driver Training Centre (TBC)

GRAFTON (NSW):

Mountain View Hillclimb Track

ARMIDALE (NSW):

Armidale Traffic Education Centre

TAMWORTH (NSW):

Oakburn Park (TBC)
How do schools enrol in the Safe Drive Test Drive Course?
Click here to download the School Booking Form
At least 2 months before the course date, Safe Drive Training will email your school an enrolment kit, which includes a promotional video and the enrolment form for students.
How do students enrol?
Please download our Enrolment Form:
Your school might need to modify these forms under the following circumstances:
if you want to collect all monies at the school (and not have students paying SDT directly or by cheques)
if you are making this a GST exempt school excursion
if you have funding/subsidy from sponsors, parents committees or local community organization (Lions, Apex, Rotary)
Students from participating schools should return the enrolment form and full payment to the course coordinator at your school (unless instructed otherwise).
Does the course count towards logbook hours?
Amazingly, Queensland Transport does not recognize attendance at any defensive/advanced driving courses as counting towards the 100 hours of logbook experience required by L-plate drivers. Therefore the hours of essential driving theory and practical skills training undertaken at this course cannot be credited towards your logbook hours. Participants at this course will be asked to sign a petition to change this decision.
Click here to read the Courier Mail story on this issue
OPTIONAL: SAFETY PACK
Students are invited to purchase a Safety Pack as an optional extra.

SAFE DRIVING PLEDGE
The Safe Driving Pledge is a committment to safe driving that a novice driver can make to their parent's. This document can be downloaded, discussed, enacted and placed in a visible location to remind the novice driver of the pledge they have made.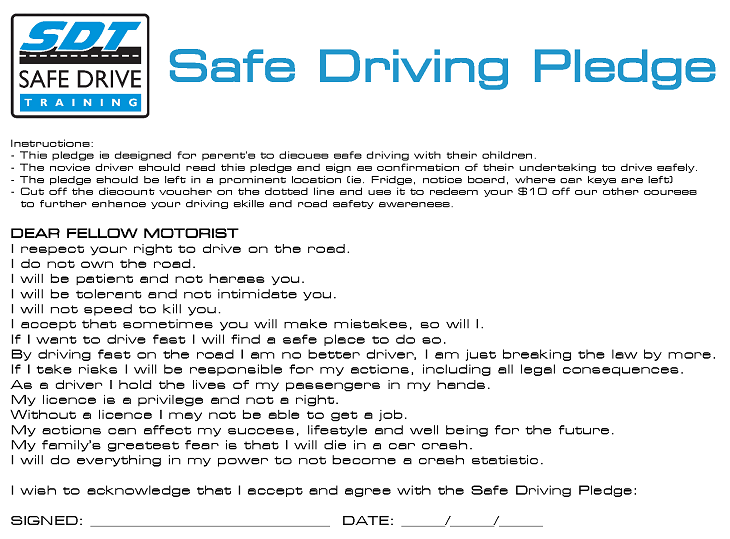 DOWNLOADS:
School Driver Training Brochure
School Booking Form + Dates + Prices
SDT Risk Assessment Information
SCHOOL DRIVER TRAINING PROMOTIONAL VIDEOS:
The links to these videos are provided so schools can email parent's showing the program being planned.