We have used the COVID-19 pandemic, to reinvent our Defensive Driving course delivery.
Stage 1: Safe Drive E-learning:

amazing on-line defensive driving videos replaces the theory on our courses

Stage 2: Practical Defensive Driving Course:

4 hour course with vehicles supplied (no theory required)

+ Optional Skid Pan Experience:

make it a full day of practical driver training with the skid pan session
SEE PROMOTIONAL VIDEO BELOW: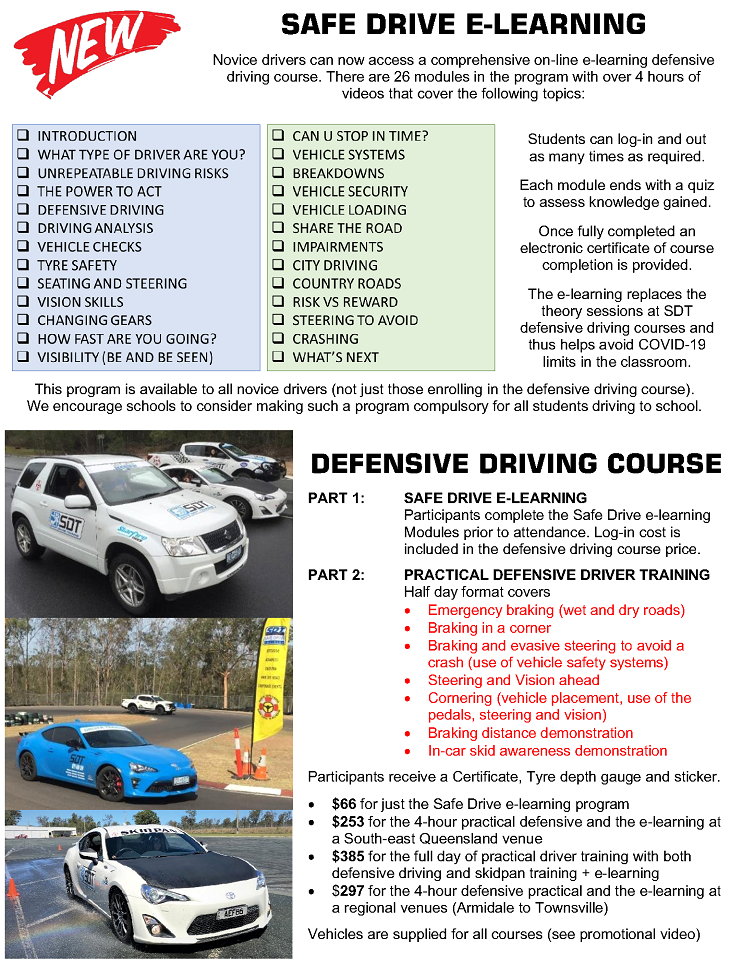 FREQUENTLY ASKED QUESTIONS
Where are the courses conducted?
For 2021 programs are available in the following Australian locations:
CAIRNS (QLD):

Cairns Speedway or Springmount Dragstrip

TOWNSVILLE (QLD):

1300SMILES Stadium

PROSERPINE (QLD):

Whitsunday Raceway

MACKAY (QLD):

Palmyra Dragstrip

ROCKHAMPTON:

CQLX Gracemere Saleyards

GLADSTONE:

No suitable venue exists

EMERALD:

Emerald Driver Training and Go-kart Track

ROMA (QLD):

Ironbark Raceway

BRISBANE (QLD)- 2 venues


Willowbank Raceway Training Centre




RACQ Mobility Centre of Excellence (Mt. Cotton)

TOOWOOMBA (QLD):

Greer Park Raceway (Helidon)

WARWICK (QLD):

Warwick Dragstrip

LISMORE (NSW):

Lismore Driver Training Centre (TBC)

GRAFTON (NSW):

Mountain View Hillclimb Track

ARMIDALE (NSW):

Armidale Traffic Education Centre

TAMWORTH (NSW):

Oakburn Park (on demand)
Can I use my own car?
No you shouldn't, because you won't always drive your current vehicle, but this is most likely the only driving course you will undertake. At SDT courses we provide a fleet of different vehicles to experience for life-long learning. These vehicles are insured for driver training (at many venues your vehicle would not be insured as insurance companies do not cover vehicle use on closed circuits or motorsport venues for any reason). Participants a our courses are encouraged to test drive all vehicles to understand the unique characteristics of each. Plus the tyre wear and fuel consumption is included in our course fees. If you attend another course in your own vehicle, you only get to drive your own car and incur the added cost of tyre damage and fuel burn.
Click here for more information on our driver training fleet
Does the course count towards logbook hours?
Amazingly, Queensland Transport does not recognize attendance at any defensive/advanced driving courses as counting towards the 100 hours of logbook experience required by L-plate drivers. Therefore the hours of essential driving theory and practical skills training undertaken at this course cannot be credited towards your logbook hours. Participants at this course will be asked to sign a petition to change this decision.
Click here to read the Courier Mail story on this issue
What is the REAL FATAL 4?

Safe Drive Training developed the Real Fatal 4 Factors in Novice Driver Crashes in 1999. It is our belief these 4 factors are the underlying reason why so many novice drivers are killed on Australian roads.

OVERCONFIDENCE
RISK-TAKING
INEXPERIENCE
PEER INFLUENCE

Whilst certain vehicle control skills might assist in the seconds before an impact, the

Real Fatal 4 Factors

are behaviours which create the dangerous situation in the first place. Empowering novice drivers to understand these factors can assist with better decisions minutes (not seconds) before the potential crash.
Who can attend?
The course is open to all drivers of any age. Many parents attend with their teenager and benefit from the experience. However the majority of participants are under 25. Safe Drive Training requires all participants to have a minimum of 5 hours of driving experience. This is not a learn-to-drive course. Please do not attend if you cannot drive, steer or brake
Are group discounts possible?
Yes, we offer discounted attendance fees for groups (like school groups). But these prices also apply to private groups, church groups, family groups and community organisations. Click below to download the group pricing
DOWNLOAD GROUP PRICING INFORMATION
Is my school attending?
We send our course information to all schools from Armidale to Townsville. But we appreciate schools have hectic schedules and not all excursions can be fit into the school year. But sometimes all it takes is parent to let a school know of their interest, to then generate a booking. These are the links to our promotional videos for schools, in case you wish to send a link to a member of staff at your child's school.
OPTIONAL: SAFETY PACK
Participants are invited to purchase a Safety Pack as an optional extra.
SAFE DRIVING PLEDGE
The Safe Driving Pledge is a committment to safe driving that a novice driver can make to their parent's. This document can be downloaded, discussed, enacted and placed in a visible location to remind the novice driver of the pledge they have made.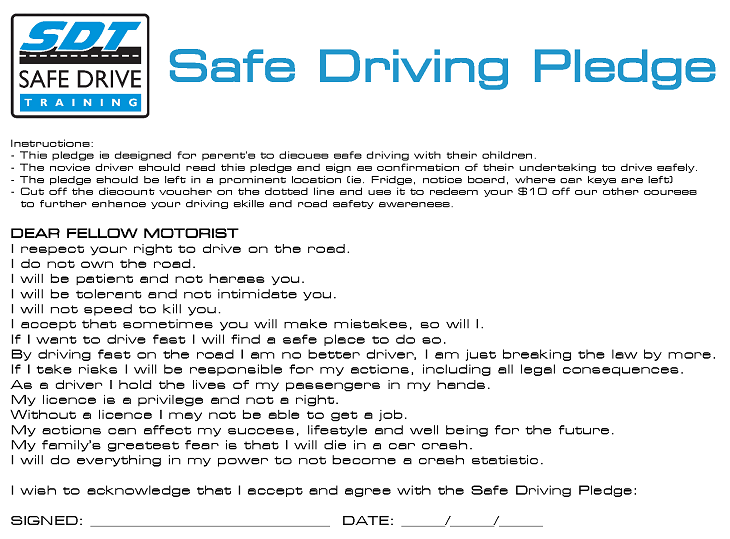 SAFE DRIVE GUARANTEE:
We are so confident that our driver training course will make better drivers, we GUARANTEE IT.

Any participant completing the SAFE DRIVE TEST DRIVE course that has an AT FAULT accident within 12 MONTHS OR 20,000 km of the course date will be able to re-attend the SAFE DRIVE TEST DRIVE course AT NO EXTRA CHARGE
WARNING ON POST LICENCE TRAINING:
Research has shown that the training methodology adopted by some advanced (post-licence) driving schools is flawed. The courses introduce advanced/motor sport car control skills without addressing behavioral and attitudinal changes in those gaining these skills. This in turn can produce drivers with greater confidence who readily accept more risk; possibly leading to an increased level of crash involvement for course participants. All Safe Drive Training courses are based on proven worlds best practice training techniques to ensure participants improve their driving safety and ultimately become the best driver they can be.
BOOKING INFORMATION:
| | | |
| --- | --- | --- |
| | | |
| CLICK ICON TO SEE ALL UPCOMING COURSE DATES | USE THIS FORM IF BOOKING IN PRIVATELY | USE THIS FORM IF BOOKING WITH A GROUP (eg. schools usually collect the forms) |
DOWNLOADS:
DOWNLOAD GROUP PRICING INFORMATION
PROMOTIONAL VIDEOS:
| COURSES FOR UNDER 25's | |
| --- | --- |
| SCHOOL PROGRAMS | |
| ADVANCED CAR CONTROL | |
| SKIDPAN EXPERIENCE | |
| TRAILER TOWING | |
| 4WD OFF-ROAD TRAINING | |
| BE A BETTER DRIVER | |