We have been conducting defensive driving courses since 1996 and we are thrilled to now be training the teenage children of the participants who did our courses in the early years. Courses are available for individual bookings or groups.
CLICK BELOW FOR PROMOTIONAL VIDEO
Where are the practical courses conducted?
The majority of our courses are conducted at the RACQ Mobility Centre (formerly known as the Mt. Cotton Training Centre) located in Cornubia (near Loganholme). Courses at other venues are mainly for group bookings, but occassionally we run tour dates.
Since we supply the vehicles, many participants fly to Brisbane to undertake a defensive course (often combined with skidpan training or a 4WD Off-road course on the next day).
Remember you can purchase access to our online eLearning anywhere in Australia. The online course contains safe driving information that is probably not covered in driving courses run by other defensive driver training providers.
For 2024 programs, our practical courses are available in the following locations: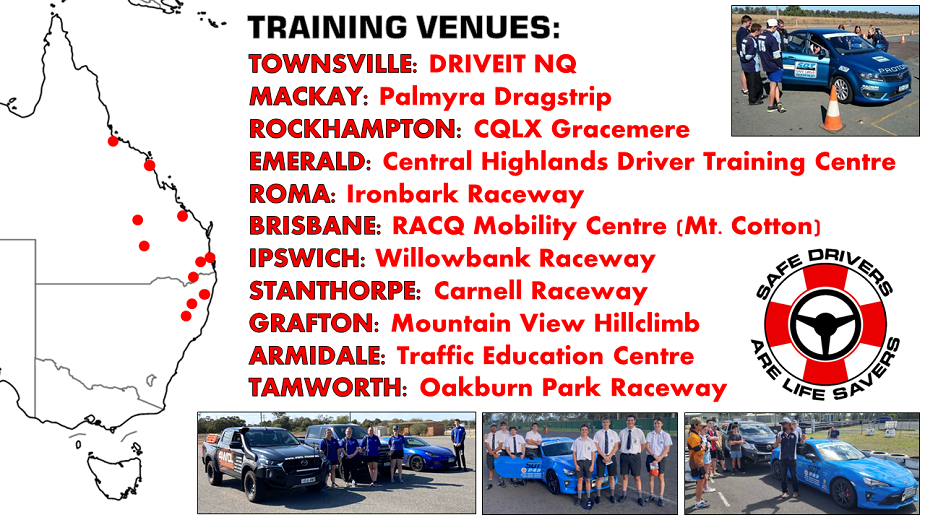 Do I use my own car?
Unlike most driver training providers, SDT supplies vehicles for many of our training programs. This includes new and older cars plus front and rear wheel drive cars. These vehicles are supplied for all defensive courses for private participants and school groups. This gives drivers an opportunity to sample a cross-section of vehicles which are setup for particular learning outcomes.
The participant will learn the different dynamics of different vehicles, rather than learning only how their current vehicle handles.
This also means the training provider (SDT) incurs the cost of the fuel burn and tyre wear plus you don't have to clean the skidpan diesel, dust or mud off your vehicle after the course. How hard are you going to push it, when the training exercises could wear the tyres on your car? Use our vehicles instead!
But shouldn't I learn in my own vehicle?
If you have not driven many different vehicles then it is not wise to use your current vehicle for driver training. It is likely that you are only going to attend one driving course in your life, so why undertake it in the current vehicle which you share with your family or will likely sell in a few years. You are better to gain experience in a range of vehicles, big and small, front and rear wheel drive.
A good golfer or tennis player, learns the techniques and skills and then can adapt to different clubs or racquets. So inexperienced drivers are best to attend a course and use our range of vehicles. They will learn the differences between vehicles and learn to adapt the skills to different vehicles (feeling a vehicles dynamics).
Most training schools don't offer vehicles (since they can't afford to run a fleet of training vehicles) and will tell you to use your own, but really this is only because they have no alternative for you.
But my car is unique!
Ok then, if your car is specialised, allocated to you (as in a company vehicle) or is a new purchase like a high performance sportscar then using your own vehicle does have merit. You will learn how it handles, its limits and you will likely attend another driving course in the future when you change to a different vehicle. But this makes you an enthusiast or a safety focused driver. You can use your own vehicle at our corporate Defensive dDriving, Advanced Car Control, Skidpan Experience, 4WD Off-road and Sports Driver Training programs. QFleet (Queensland Government vehicles) are permitted to be used at SDT courses.
| | |
| --- | --- |
| | INSURANCE WARNING |
VEHICLE INSURANCE only covers vehicles on gazetted roads so it is highly unlikely your own car will be insured at some driving courses, especially those conducted on a motorsport circuit or go-kart track, any closed facility or if high speeds are involved. Plus in your own car you will only get to experience one car and you incur the added cost of fuel and tyre wear. It offers the participant greater advantages to use a range of vehicles supplied which are insured for such training. We have reviewed the Product Disclosure Statement of many insurers and provided a summary in the download link below.
DOWNLOAD> INFO SHEET: Is my vehicle insured?
Does the course count towards logbook hours?
Amazingly, Queensland Transport does not recognize attendance at any defensive/advanced driving courses as counting towards the 100 hours of logbook experience required by L-plate drivers. Therefore the hours of essential driving theory and practical skills training undertaken at this course cannot be credited towards your logbook hours. Participants at this course will be asked to sign a petition to change this decision. Click here to read the Courier Mail story on this issue
What is the REAL FATAL 4?
Safe Drive Training developed the Real Fatal 4 Factors in Novice Driver Crashes in 1999. It is our belief these 4 factors are the underlying reason why so many novice drivers are killed on Australian roads.
OVERCONFIDENCE

RISK-TAKING

INEXPERIENCE

PEER INFLUENCE
SPEEDING IS THE SYMPTOM (EFFECT) OF OVERCONFIDENCE / RISK-TAKING / INEXPERIENCE / PEER INFLUENCE. MEDICINE TREATS THE CAUSES AFTER OBSERVING THE SYMPTOMS. ROAD SAFETY INITIATIVES MOSTLY TARGET THE SYMPTOMS AND NOT THE UNDERLYING CAUSES.
Whilst certain vehicle control skills might assist in the seconds before an impact, the

Real Fatal 4 Factors

are behaviours which create the dangerous situation in the first place. Empowering novice drivers to understand these factors can assist with better decisions minutes (not seconds) before the potential crash.
Who can attend?
The course is open to all drivers of any age. Many parents attend with their teenager and benefit from the experience. However the majority of participants are under 25. Safe Drive Training requires all participants to have a minimum of 20 hours of driving experience. This is not a learn-to-drive course. Please do not attend if you cannot drive, steer or brake a vehicle with some confidence.
Are group discounts possible?
Yes, we offer discounted attendance fees for groups (like school groups). But these prices also apply to private groups, church groups, family groups and community organisations. CLICK HERE TO DOWNLOAD THE GROUP PRICING INFORMATION
SAFE DRIVING PLEDGE
The Safe Driving Pledge is a committment to safe driving that a novice driver can make to their parent's. This document can be downloaded, discussed, enacted and placed in a visible location to remind the novice driver of the pledge they have made.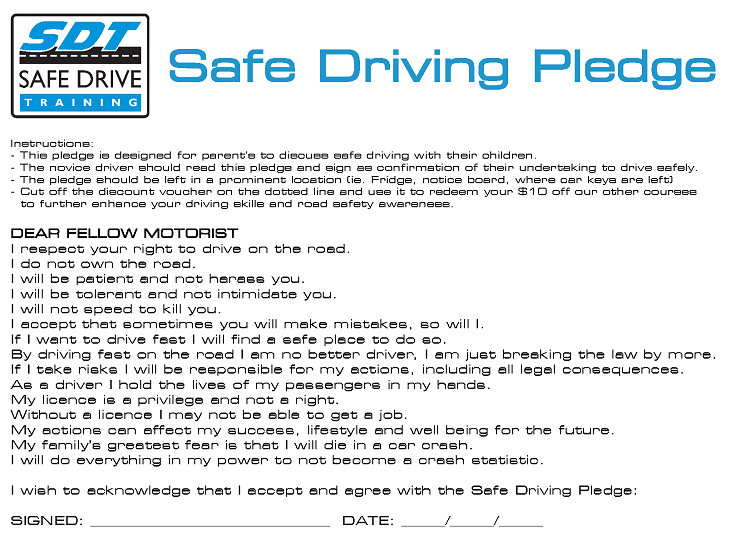 SAFE DRIVE GUARANTEE:
We are so confident that our driver training course will make better drivers, we GUARANTEE IT.

Any participant completing the SAFE DRIVE TEST DRIVE course that has an AT FAULT accident within 12 MONTHS OR 20,000 km of the course date will be able to re-attend the SAFE DRIVE TEST DRIVE course AT NO EXTRA CHARGE
WARNING ON POST LICENCE TRAINING:
Research has shown that the training methodology adopted by some advanced (post-licence) driving schools is flawed. The courses introduce advanced/motor sport car control skills without addressing behavioral and attitudinal changes in those gaining these skills. This in turn can produce drivers with greater confidence who readily accept more risk; possibly leading to an increased level of crash involvement for course participants. All Safe Drive Training courses are based on proven worlds best practice training techniques to ensure participants improve their driving safety and ultimately become the best driver they can be.
BOOKING INFORMATION:
| | | |
| --- | --- | --- |
| | | |
| CLICK ICON TO SEE ALL UPCOMING COURSE DATES | USE THIS FORM IF BOOKING IN PRIVATELY | USE THIS FORM IF BOOKING WITH A GROUP (eg. schools usually collect the forms) |
DOWNLOADS:
COURSE FLYER: RACQ MOBILITY CENTRE
COURSE FLYER: WILLOWBANK RACEWAY (IPSWICH)
COURSE FLYER: CARNELL RACEWAY (STANTHORPE)
INFO SHEET: Why we supply the vehicles + is my vehicle insured?